My AMM Journey: From NaNoWriMo to Mentee!

It has been a crazy month, and I've finally gotten the chance to sit down and write this whole wild story out. I had a really long blog post (over 3,000 words, oops) drafted on January 29th where I went into the long twisting story of writing my book ENTERING THE OTHERWORLD and waiting for AMM announcements. At the time, I had been sure that announcements would come within the next two days. That did not exactly happen, but now the waiting is long over and I'm ready to tell this story in a shorter blog post – so here we goooo!
Let's start at the beginning: October 23rd, 2021.
It's one week until Halloween, I had just turned 21, and I was ready to party. Except, not really, because it was also the end of the semester, I had just finished organizing a 200+ person Rocky Horror Picture Show event, and I was exhausted. I wasn't looking forward to going out or partying. I just wanted to relax. So I cancelled all my plans and spent the last week of October trying to do just that…
…which lasted all of 3 days before I realized NaNoWriMo was about to start.
I've done NaNo almost every year since 2011, but I skipped 2020 because I'd written 600,000 words of fanfic already and I wanted a break. 2021 was different.
I'd gone through a bit of a rollercoaster of a writing journey already – the rollercoaster of wrangling my imposter syndrome into submission. When I started university in 2018, I set aside writing for the most part (not comics or art, just writing on its own). I wrote a few short stories, interned at two campus magazines, and tried to focus on art since that's what I was going to school for. Then in 2019, I started at Film school and fell in love with script writing – so I attempted NaNo again and failed around 25k on a sapphic witch / vampire NA book. I'm sure you know what happened in 2020, and as a result, I ended up stuck at home for 6 months when my university shut down.
I'd been telling myself for over a year that writing fanfic – or writing for fun at all – was a waste of my time. But amidst the chaos of real life, I fell in love with the Legend of Zelda… and I decided that right now was an acceptable time to write fanfic if there ever was one. So I wrote. And wrote. And published a oneshot a day, every single day, for months.
Surprisingly, people actually read it too. I'd never gotten a huge response to my fics before – no more than 5,000 hits. Now I was getting dozens of comments a day, people were binge reading my work late into the night, and I was – gasp – becoming well known in a fandom. It really surprised me, because up until that point, my writing had gotten a mostly negative response, or none at all.
At the beginning of 2021, I started publishing short stories and romance novels on Kindle Direct Publishing. It was step #2 in the process. Clearly, people only liked my writing because it was fanfic for a fandom they liked – not because it was good.
But then, complete strangers on KDP started buying my work.
I got burnt out from writing to market after a few months, but still, I get paychecks from Amazon every month for my two dozen short stories and novels. I'm still surprised every time.
So now, it was time for step #3. Fully original work, no holds barred, to prove once and for all if I was actually cut out to be a writer or if all of this had just been a fluke.
With one week before November 1st, I sat down and outlined my novel.
The month before, I had written a short story about a young transgender kid who gets tangled up with some Fae in the woods after their Grandfather passes away. It was a horror fantasy story, it was dark, there was death – very eldritch horror-type dread. NOT for kids, and this book was going to be middle grade. Somehow, the outline fell into place easily.
Some people talk about their first query-ready book as "the book of their heart." This book was my tenth, and the second I ever wrote is my heart-book. This book? This is the book I would've wanted as a child. This is the book written for a younger me, and for my little siblings, and for all the trans kids who love SFF and never see themselves on the page.
3rd person POV. They/them pronoun protagonist. Queer friend group where being LGBT+ doesn't even come up. Kids just being unapologetically themselves without feeling like they need to defend or explain it. I didn't care if it wouldn't sell because of these things – I wrote the book for me and I hoped that someday, it would reach the kids who needed it most.
So on November 1st, I sat down and started drafting ENTERING THE OTHERWORLD – then titled "Fair Folk BS." On November 13th, I wrote "the end" on my first draft at 55,000 words. I set it aside for a week before I couldn't help myself and dove back into to revise.
By the end of December, I'd gotten through four rounds of revision and I was planning to start querying in late-January or beginning of February – all I was waiting on was feedback from my university's writing center, who had volunteered to do a developmental edit pass.
While I had been drafting and editing, I'd watched a LOT of AuthorTube videos. I wanted to query this book, and I dreaded querying "too early." People kept saying "everyone queries too soon" but I didn't want to mess up my shot with EtO. I watched Alexa Donne's videos and learned about Author Mentor Match. I didn't really consider it for myself, but while I was waiting excitedly to tackle my last edit, I went on Twitter and found the #AskMentor tag going around.
I was nervous that I'd made a mistake writing a trans MG book. That no one would read it. That I'd be rejected when querying just for it being too much for the age group and market. So I tweeted at the mentors, just to see.
And immediately my phone started to buzz.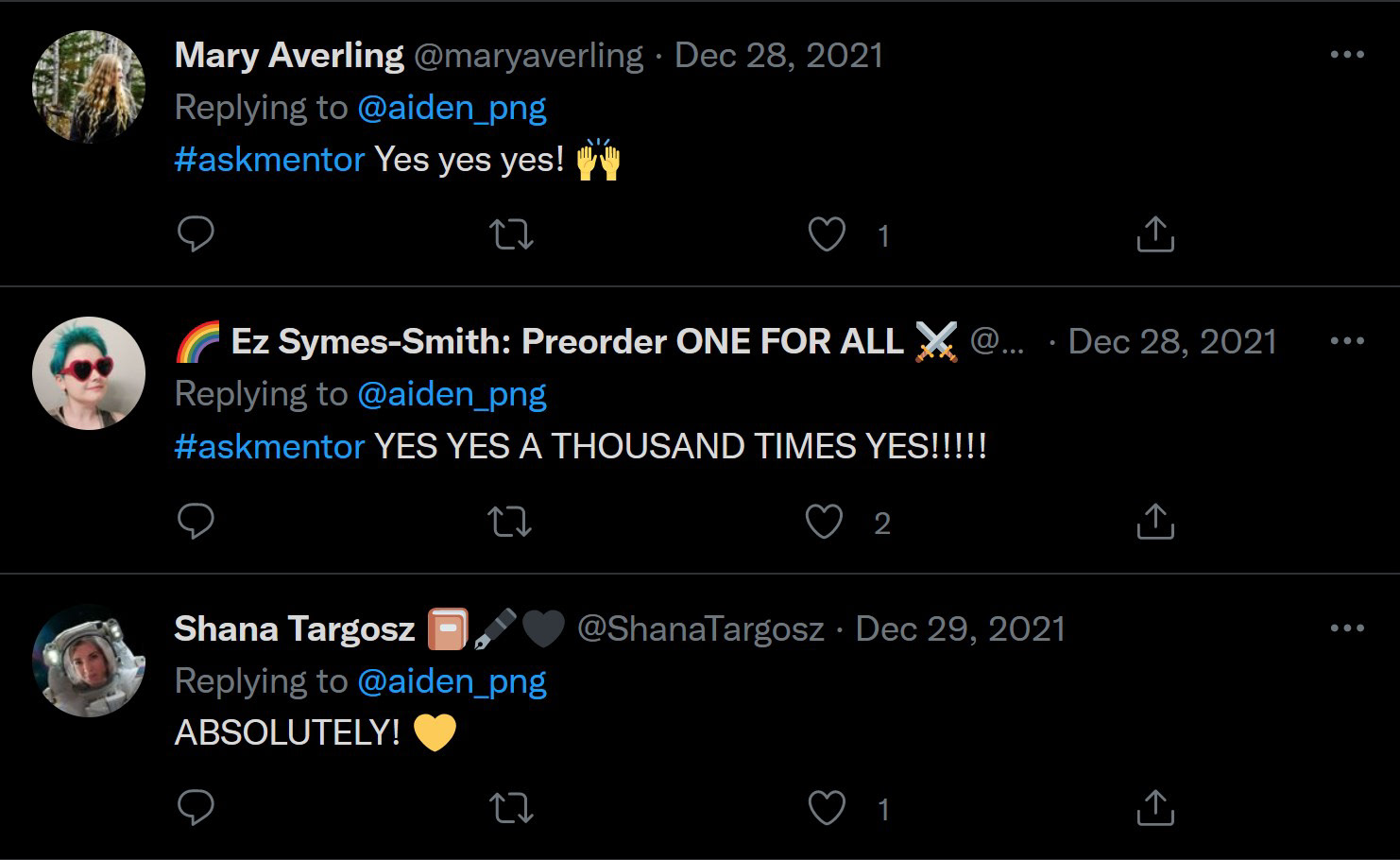 Alright, so maybe I hadn't screwed up. I kept AMM in the back of my mind and waited for my editor's notes, just in case…
January 3rd, 2022. I was quarantined at home. My editor and I finally called. She had nothing but good things to say, and twelve spelling mistakes to note. Nothing needed to change in my book.
I knew that wasn't true, but reader, I am not a developmental editor. I had ideas for what I thought needed to change, but my imposter syndrome wouldn't shut up. "What if you do it wrong," "what if you make big changes and the book was better the first time," etc. etc. And I was still terrified of querying "too early."
But Author Mentor Match applications were opening on the 12th.
For the next 10 days I speedran my application, prep, edited my query to hell, and threw together a hopefully decent synopsis. I picked out my four mentors, which was pretty difficult since seven had excitedly replied to my tweet. Also, I had a 102 degree fever. So that was fun.
The form opened, and I finally hit send at 2pm on January 12th.
I hadn't expected to hear anything until the 15th, after submissions had closed. Then I woke up on the 14th to an email.

And thus began the hardest waiting period I've ever experienced.
The mentors I applied to were subtweeting. I was convinced one had subtweeted my book the day I applied. AMM Waiting was going crazy. I joined the AMMR9 Hopefuls AND AMM Unhinged Discord servers. There was lots of screaming. I stalked the AMM Teasers hashtag constantly.
By January 20th, I'd relaxed enough to start on a new story to distract myself. Another YA sapphic book, enemies to lovers, magic boarding schools – all the good tropes.
So of course I got another email just as I was getting into it.
I'd heard about these edit emails and messages, so I tried not to get my hopes too high. Someone was interested and had ideas, so all this meant was maybe, maybe I would get an edit letter at the end of this. Then I could edit my book one last time and go into the trenches.
I was able to reply pretty quick. I was hoping for more, but I figured that would be the end of it.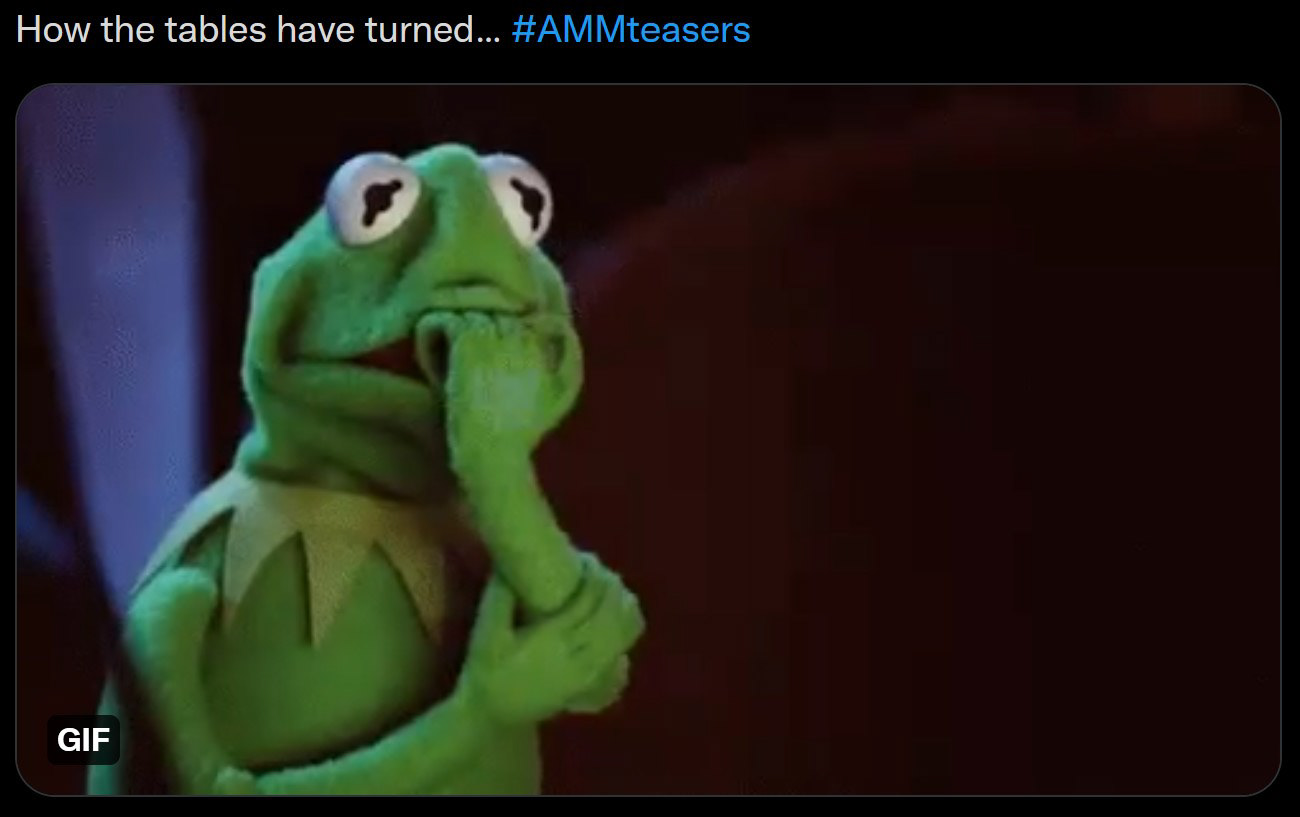 I lost it. What did it m e a n?? Was it a good sign? Was it bad? Would this mentor change their mind and go with one of the hopefuls who had originally subbed to them? It seemed like a possibility.
But now my hopes were up. Shoot.
The next two weeks were torture. Waiting was even harder, and every time AMM pushed back the announcement date, my stress levels got higher. I couldn't convince myself I wouldn't get picked anymore, so now I knew if I didn't get in I would be devastated. I knew the odds – it was about a 4% chance that anyone who applied would get in.
It was February 4th and the AMM Twitter had said results wouldn't be out until the weekend. I was losing my mind. I just wanted the wait to be OVER, no matter what the results were.
The next half hour was a blur of celebrating as one by one, emails were sent out. A lot of my friends got in and we were all collectively screaming.

After one of the twistiest, most stressful rollercoasters I have ever been on, I came out on the other side with the amazing Leslie Adame as my mentor. I couldn't have asked for a better match – Leslie and I clicked so fast and her ideas for ENTERING THE OTHERWORLD were everything I needed to hear and had hoped for. And she understands my fears about querying and wants to help me with that too!
I have my edit letter and I'm about to get my new outline approved so I can dive into revisions – all of which I am VERY excited for. The AMMR9 group is so talented and kind, and I can't wait to cheer them on through the rollercoaster of revisions, querying, and submission!
For anyone reading this who is considering applying for AMM: this is your sign to do it. Shoot your shot! You'll miss any chances you don't take, and this one costs nothing to attempt. When I applied for AMM, my only writing friends were on different career paths than me – but while waiting, I met a huge supportive group of writers all at the same stage as me. That community is invaluable, and you get to be a part of it just by applying! So go for it, make friends, and remember that AMM is subjective just like querying is. Whether you get in or not, if you find your community, you've won.

BONUS:

To celebrate, I decided to format and print an "AMM Edition" of ENTERING THE OTHERWORLD! I wanted a memento of the draft that got me in – a draft that is changing a LOT in the next round of revisions. Behold.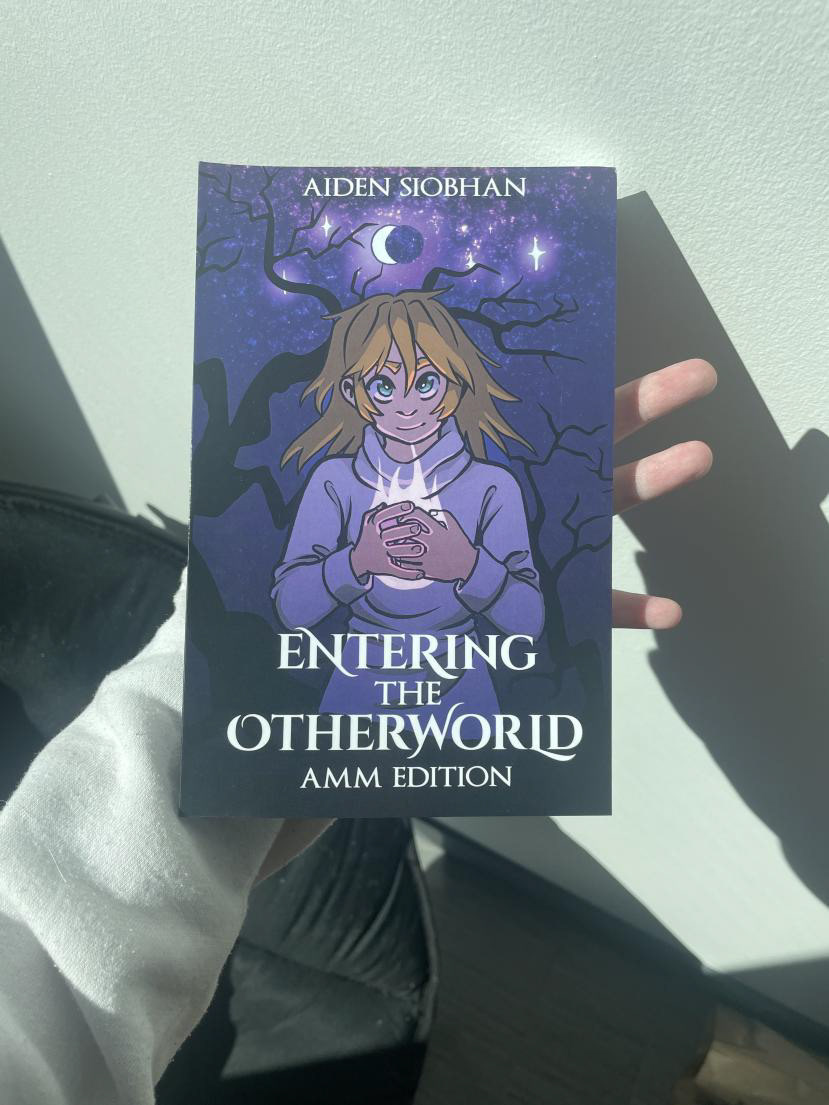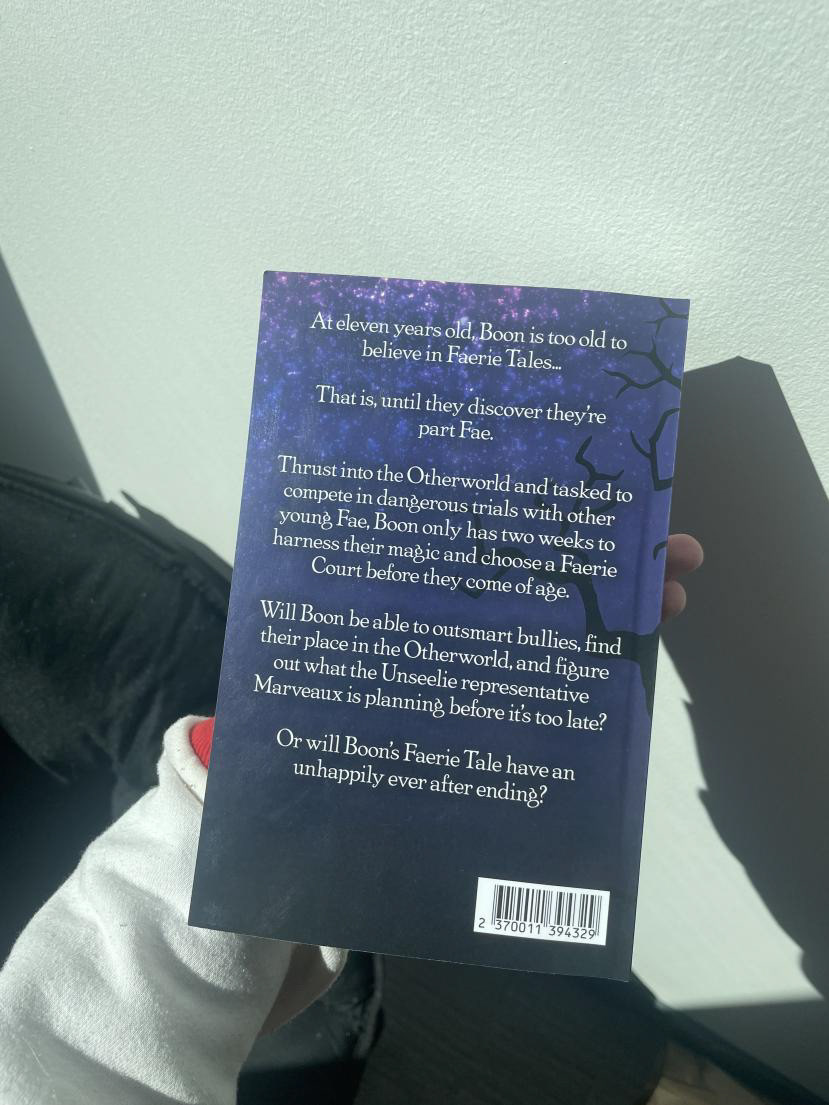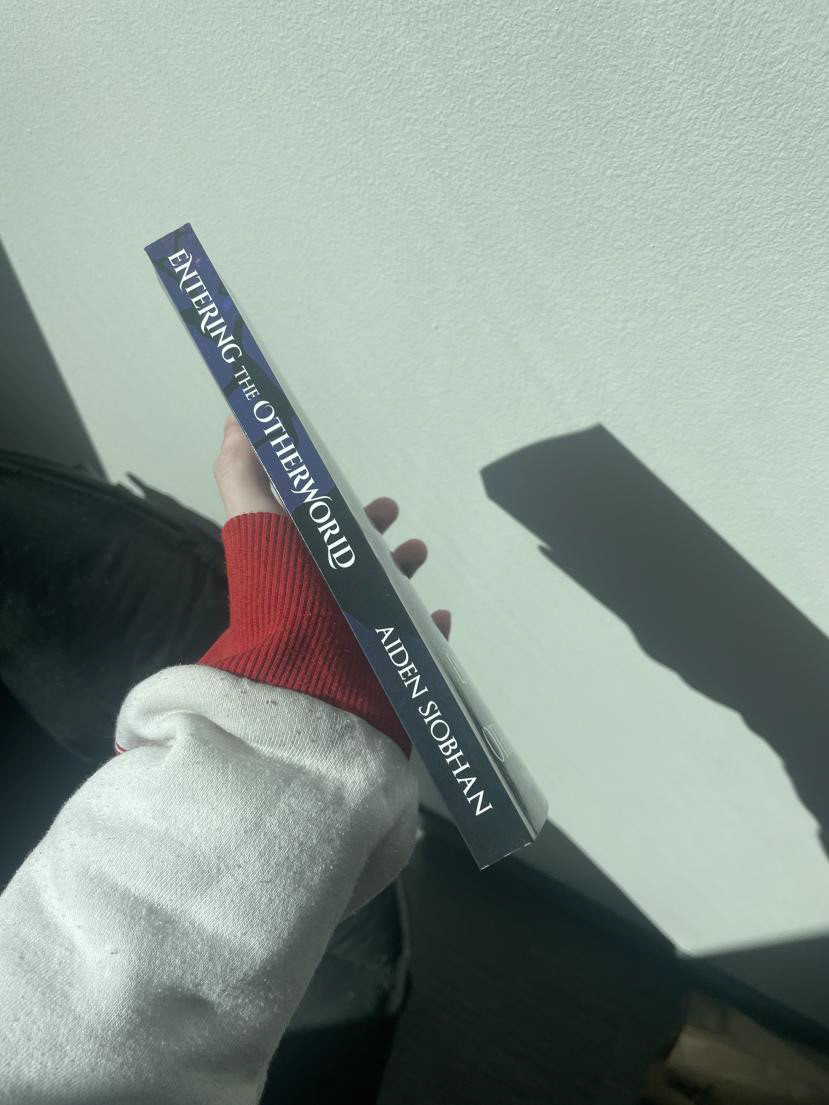 284 pages of LGBT+ Middle Grade Fantasy goodness.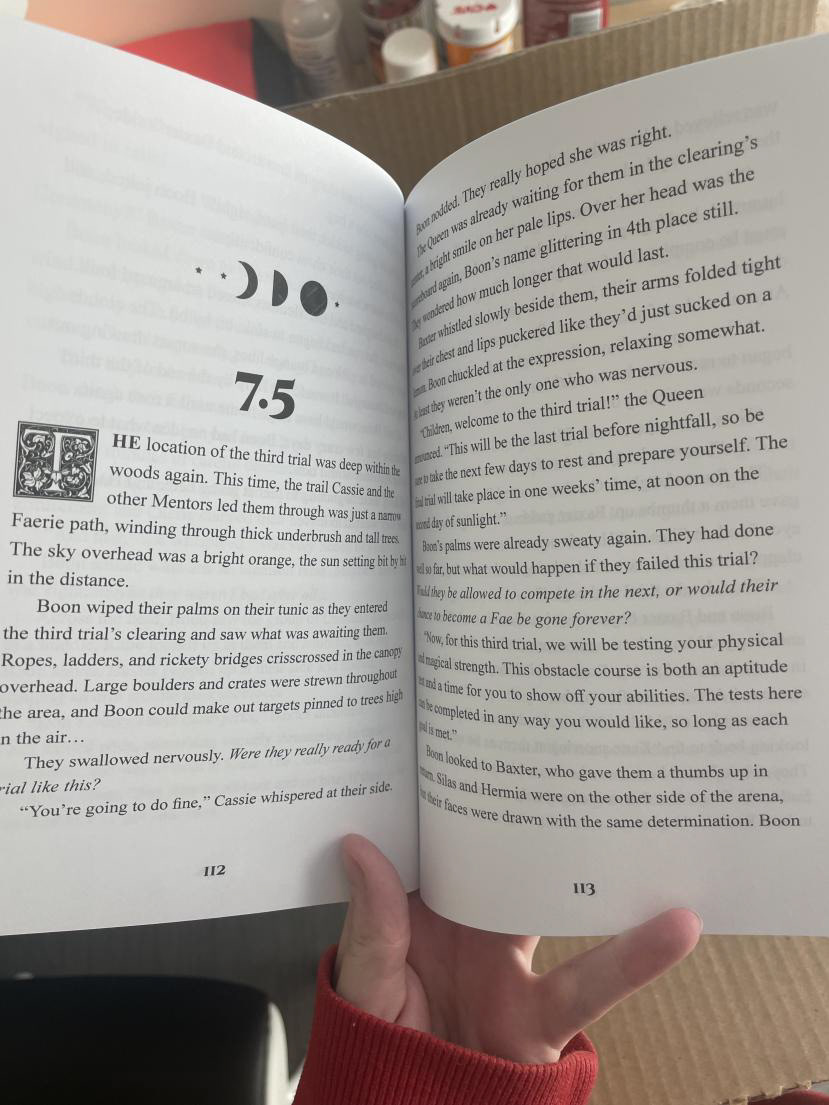 (Yes, Chapter 7.5 was in the draft I submitted to AMM. There were also two curse words and several meme references. Don't let the silliness of your draft stop you from applying!)

Shoot your shot! Everyone's writing journey is different, but you miss every chance you don't go for.
Thanks for reading!